Digital Price Labels by troniTAG
We are your full-service partner for the integration of digital price tags
TroniTAG offers you digital price labels with the most advanced technology and integration into your shop or shop.
Switch from paper labels to digital price tags and benefit from the advantages of digital price labelling:
No more manual exchange of paper labels necessary
Product and price updates in seconds
Central price control
Battery life up to 5 years long
Extensive mounting options
Automatic Data Update
With just one click, update your price and product information in seconds - or update prices at specific times and days of the week - fully automatically.
Multi-Channel-Integration
Keep your in-store and online shop data up to date and react quickly to competitive prices.
Extended Advertising Possibilities and Interactive Information
With the smartphone, additional information about the product can be called up directly at the price tag. This can serve as the basis for navigation-based user guidance.
Fast Amortisation and high ROI
By saving on personnel, printing and material costs as well as optimised sales promotion, a high return on investment and rapid amortisation is possible after only 12 - 18 months.
Digital Price Labels and Accessories
The right price label for every area of application. The Electronic Shelf Labels are available in different series. For example, the integrated labels from the IL series can be directly powered by a shelf rail specially developed for us. In this way, battery replacement is no longer necessary. For professional fastening, we have a wide range of shelf rails, adapters and uprights as well as our own manufacturing options for individual fastening.
BL-/SL-Series
Battery-powered labels with ZigBee transmission
Discover more »
ZV-/ZB-Series
Battery operated labels with 2,4 GHz RF transmission
Discover more »
Comparison of ESL Systems
Differences and benefits of the systems clearly presented
Discover more »
LCD Bartypes
for playing dynamic and multimedia content
Discover more »
Fixings
for almost every product and every shelf type
Discover more »
ESL Starter Kit
The entry into digital signage
Discover more »
How do Digital Price Labels work?
Digital price labels or Electronic Shelf Labels are centrally controlled and updated via secure radio transmission. Via the troniTAG web interface, you as the owner can access the ESL system from any location and PC.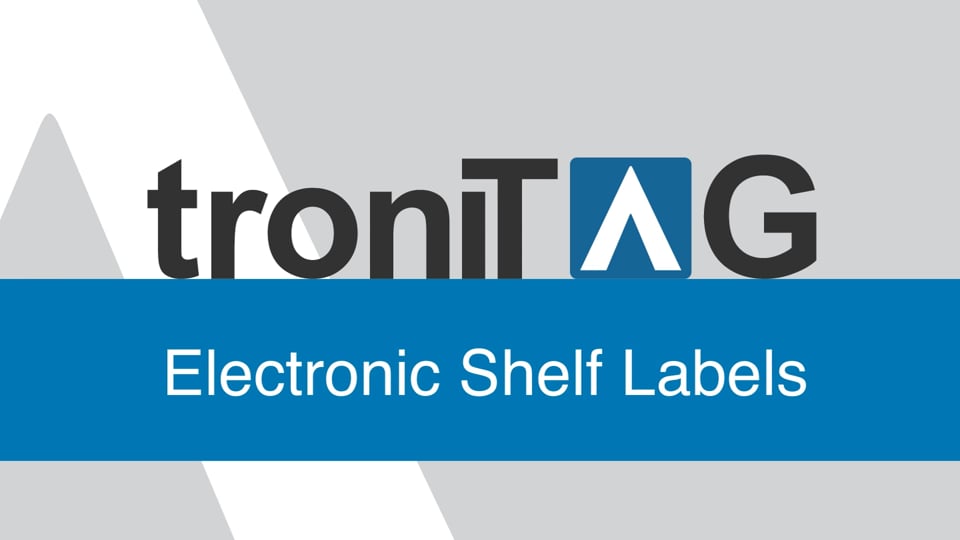 Areas of Application for Digital Price Labels
The areas of application for digital price labels are almost unlimited. Below you will find a selection of industries and areas of application:
Crosslink different Branches and Areas
Electronic price labels not only offer you the possibility of uniform price labelling. You can also design and adapt the electronic labels centrally and across branches. The connection to your merchandise management system allows you to use the labels from sales to the packing station to shipping. Discover the uniform management of digital price labels for your company.
Application Images of Digital Price Labels
Personal consultation
We will be happy to answer any questions you may have or to provide you with personal advice!
Get in touch now »
Personal consultation
We will be happy to answer any questions you may have or to provide you with personal advice!
Get in touch now »